CommView for WiFi 7.1 is special software pc for capturing and anailizing(decrypting) wi-fi packets radio data that are traveling in air. 802.11a/b/g/n.CommView gather informations from wifi adapter (must be compatible with program) and decode them, ot's used to crack some wi-fi password but not very simple, you need practice to do it right and fast. working on windows 10, 8, 8.1, 7, vista, xp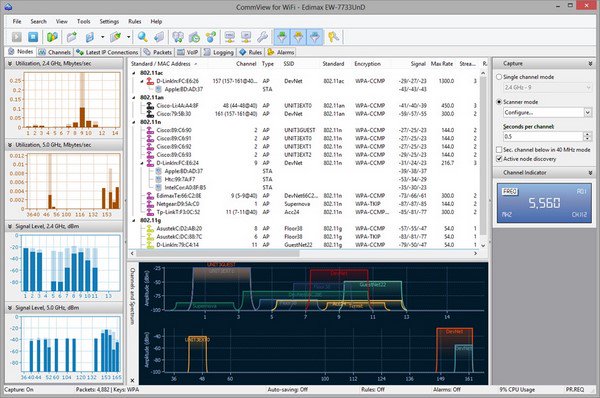 CommView WiFi complete decoding protocols: ARP, BCAST, BGP, BMP,CDP,DDNS, DHCP, DIAG, DNS, EIGRP, FTP, GRE, H.225, H.261, H.263, H 0.323, HTTP, HTTPS, ICMP, ICQ, IGMP, IGRP, IMAP, IPsec, IPv4, IPv6, IPX, HSRP, LDAP, MS SQL, CNP, NDS, NetBIOS, NFS, NLSP, NNTP, NTP, OSPF, POP3, PPP, PPPoE, RARP, RADIUS, RDP, RIP, RIPX, PCRM, RPC, RSVP, RTP, RTCP, RTSP, SAP, SER, SIP, SMB, SMTP, SNA, SNMP, SNTP, SPX, SSH, TCP, TELNET, TFTP, TIME, TLS, UDP, VTP, WAP, WDOG, YMSG, 802.1Q, 802.1X. ACEST MATERIAL ESTE STRICT EDUCATIV!...FOLOSIREA ACESTOR INFORMATII IN ALTE SCOPURI ESTE DIRECT PE PIELEA VOASTRA...ASA CA ATENTIE,MARE GRIJA SI NU INTRATI IN BELELEl.. Cum se utilizeaza commview for wifi: -prima conditie care este de baza...un adaptor wifi compatibil cu aplicatia:
https://www.tamos.com/products/commwifi/adapterlist.php
-daca conditia a fost indeplinita se trece la urmatoarea etapa:capturarea informatiilor sau a datelor cum doriti...-start capture si vom efectua o scanare cu butonul start scanning se asteapta putin,apoi se selecteaza reteaua si stop scanning...-se apasa butonul capture(foarte incet) si distractia incepe...-este preferabil ca aceste date sa fie salvate automat,pentru asta Logging-selectati auto-saving(intr-un folder nou creat,exemplu CAPTURI) si indicam programului acest lucru save logs to:C/CAPTURI...-dupa capturarea de date suficiente se trece la unificarea datelor,sau a capturilor fiecare fisier .ncf contine informatii despre reteaua respectiva mai multe sau mai putine,daca ar fi procesate separat sansele de reusita ar fi scazute,unificate insa...-se selecteaza butonul Logging...apoi concatenate logs si importam toate fisierele .ncf existente in folderul CAPTURI...selectare...open...automat aplicatia ne va cere unde sa salveze aceasta unificare(se creeaza un folder nou exemplu UNIFICARI)...-urmatorul pas convertirea fisierelor .ncf in .CAP pentru a putea fi analizate cu AIRCRACK-NG
http://www.aircrack-ng.org
-se deschide commview se tasteaza Ctrl+L si vedem fereastra Log Viewer click pe File,apoi pe Load CommView Logs se merge la partitia c si se selecteaza UNIFICARI apoi open,dupa ce fisierul a fost incarcat click pe File-Export Logs-Wireshark/Tcpdump Format si se salveaza in c...-urmatorul pas extragerea parolei cu ajutorul Aircrack-ng care este o aplicatie gratuita de securitate,cu care putem recupera parole din date capturate cu alte aplicatii...(dupa descarcare aircrack-ng trebuie dezarhivat in partitia c!)...Deoarece nu dispune de interfata grafica poate fi utilizat doar prin Command Prompt: -se scrie comanda cd/si enter - se scrie ruta executabilului aircrack-ng.exe urmata de extensia CAP si enter...-atunci cind aircrack-ng ne va solicita sa-i indicam reteaua,scriem cifra care corespunde acesteia si enter...asteptam sa fie gasita parola...sau ca capturile nu sunt suficiente si procedeul se reia...mai devreme sau mai tirziu vor fi suficiente...Daca parola a fost descoperita se scrie fara puncte si se face conectarea la retea... informations
https://www.tamos.com/products/commwifi/
edit Aurel: decode passwords with latest version, 12 september 2017
TamoSoft CommView for WiFi pc v7.1.0.841 full version crack free download
- 76 Mb - install, exit, copy the cracked .dll file, remember that is a VM Protect packed, and not a virus ! alternatives
https://openload.co/f/OrIxJaWgxMs/CommView_for_WiFi_7.1.0.841.full.crack.pefelie.org.rar
https://www.mirrorcreator.com/files/LXC8D1KX/CommView_for_WiFi_7.1.0.841.full.crack.pefelie.org.rar_links
bonus
Passcape Wireless Password Recovery Professional Edition full crack windows 10, 8. 7 free download
Have a question ?...click here
Last update on September 15, 5:51 pm by Admin.