another veteran tools that claims optimization on any pc or laptop with windows 10, 8.1, 7, the technical facts are confusing and most users aren't aware that these kind of applications can even make them worst, because they install detection and monitoring processes that eats processor cpu and memory, not to say about poor hdd or ssd with limited cycles, the point is you should you use them only manual, and stop them from starting with windows, to really and simple optimize a pc with windows you need less services running, less active drivers and no startup application...the rest is one a month routine, registry errors repar, maybe tweaking some windows services, and classic windows files defragmentation.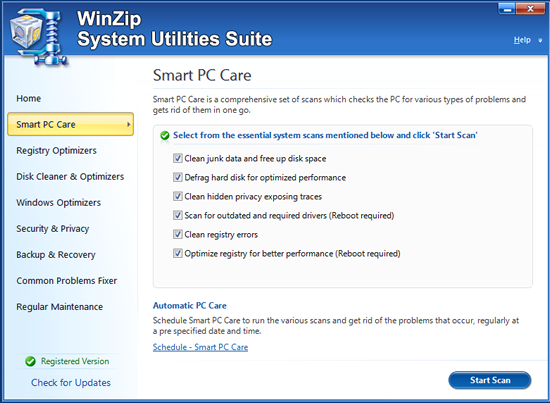 Smart PC Care: Diagnose and tune up your PC with a single click - Registry Optimizer: Clean and organize your Windows registry - Driver Updater: Fix outdated device drivers and avoid hardware problems - Disk Cleaner and Optimizer: Optimize your hard disk drive for best performance - Backup and Recovery: Recover accidentally deleted data files with ease - Privacy Protector: Permanently remove privacy-exposing traces - Regular Maintenance: Automate optimization tasks to keep your PC running like new http://www.winzipsystemtools.com/sus/system-utilities-suite.html


12 june 2019, full crack ..x32 & x64
https://anonfile.com/3aDaafv1nf/WinZip.System.Utilities.Suite.full.crack.3.7.2.4_rar
https://www.mirrored.to/files/TZIW36SE/WinZip.System.Utilities.Suite.full.crack.3.7.2.4.rar_links
- install, exit, copy the cracked file
if you have problems or requests, you can post them anonymously by clicking here, i will answer to all ..i have no ads, no redirections, no fking tricks at all !
Last update on June 12, 4:14 pm by aurel.