hard disk space won't be never enough, so you must always create free space by deleting or copying something, but how to find hidden or forgatten large or duplicate files in folders can be a problem, this pc software for windows 10, 8.1, 7, says it can handle that problem on you hard disk drivers, hdd or ssd video tutorials : http://www.trisunsoft.com/we/video-tutorial.htm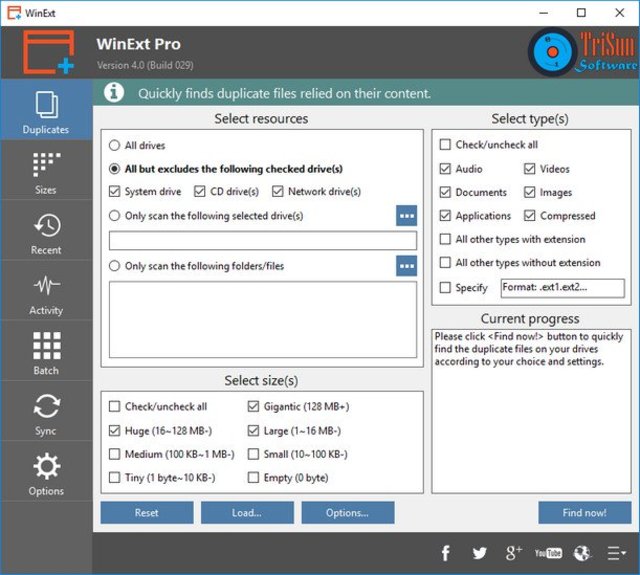 Find Duplicate Files - Quickly Find the Larger Resources + See More Information of Recently Accessed Resources + Monitor Windows Activity + Make Batch Operation on Multiple Resources + Automatically or Manually Synchronize Resources.Traces and records the operations for Windows automatically, such as 'Deleted', 'Renamed', 'Created' and 'Modified' actions of files and folders.

free space from hard disks..june 2019 updated to 8.0.048 full serial key plus portable
https://anonfile.com/ub9764udn0/Trisun.WinExt.Pro.full.key.8.0.B048_rar
https://www.mirrored.to/files/H1JAAS0A/Trisun.WinExt.Pro.full.key.8.0.B048.rar_links
- scanned by me with Eset Smart Security 11
another one to find big fat whales folders
FolderSizes Enterprise Edition 9.0.234 full version june 2019
Disk Savvy Ultimate 10.8.16 download full crack
if you have problems or requests, you can post them anonymously by clicking here, i will answer to all ..i have no ads, no redirections, no fking tricks at all !
Last update on June 9, 3:40 am by aurel.