1Password makes strong, unique passwords for all of your sites, applications and chat messengers, and logs you in with a single click/tap. It's simple, convenient security.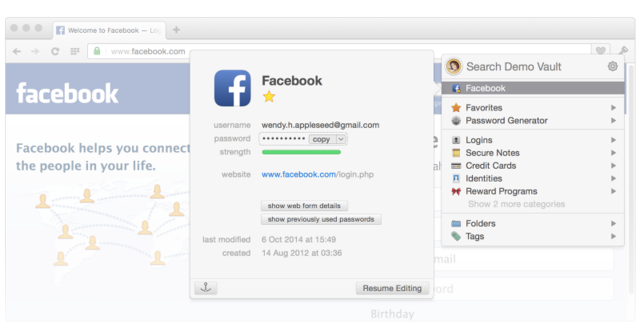 parolele ca orice vorbe se uita dar cu programul asta n-o sa le mai uitati pentru ca memoreaza si completeaza automat datele de logare de pe siteuri, ideea clasica e ca va trebui sa tineti minte doar o singura parola..Master Password care le va deschide automat pe toate celealalte, mai sunt si altele dar dati o tura si cu asta de proba, are manevre anti-phising pentru siteuri frauduloase si anti-keylogger ca sa nu va fie ciordite parolele de programe pentru spionat tastatura, mai puteti baga in el si alte date discrete precum telefoane, coduri pin si altele, inca o manevra buna e cu stocarea sincronizata a datelor pe Dropbox, in caz ca va cade compul si nu ati facut backup pe stick la ele le gasiti acolo informations and price: http://help.agilebits.com/1Password_Windows/index.html




and the password is...forget it, updated 11 june 2018
https://www116.zippyshare.com/v/SS2XShNt/file.html
https://www.mirrorcreator.com/files/A8C3IRAW/1Password.pc.full.crack.7.0.567.pefelie.org.rar_links
- install, exit, copy the cracked file, scanned by me with
Nod32 Eset Smart Security 11
Have a question ?...click here
Last update on June 12, 11:22 pm by Admin.